North London Glass Changes
Specialist Glazing Solutions were initially instructed to conduct a full condition report on this commercial buildings glazing systems to include full audited water tests of the refurbished buildings overhead atria.
A typical glazing inspection will encompass an assessment of the system components including –
All glass to include glazed units and single panels inclusive
All structural and ancillary fixings;
All bar-work including transom and mullion bars and interfaces thereof;
All gasketry and weather seals
Testing and inspection of all window opening mechanisms
All silicone seals and associated weather flashings
Associated building interfaces
System Pressure plates and Cover Caps
Our inspection identified a number of issues, from fractured overhead glazing, condensated DGU's, leak ingress to flashing details and a number of issues to the operability of the aluminium window systems onsite.
A detailed report was then submitted to the client. This included a photographic record of all defects founds; Health and Safety implications reported and graded; projection and costing of the existing and  future issues and remedial advice given, with priority categorisation for action and budget consideration.
Our client subsequently instructed us to carry out a number of remedial repair works to include 12 No DGU replacements, window refurbishment works to all aluminium openers, full cleaning of all overhead glazing and additional sealing operations to areas affected by leak ingress.
Glass replacements here came with their own unique challenge. Each DGU was housed within a full wrap around frame – meaning each casement required full removal and disassembly onsite. Existing bracketry was found to be insufficient during pre-lim therefore new, heavy duty metalwork was designed, manufactured and installed to ensure all units could be re-instated safely and within the mansard glazing's weight loading parameters.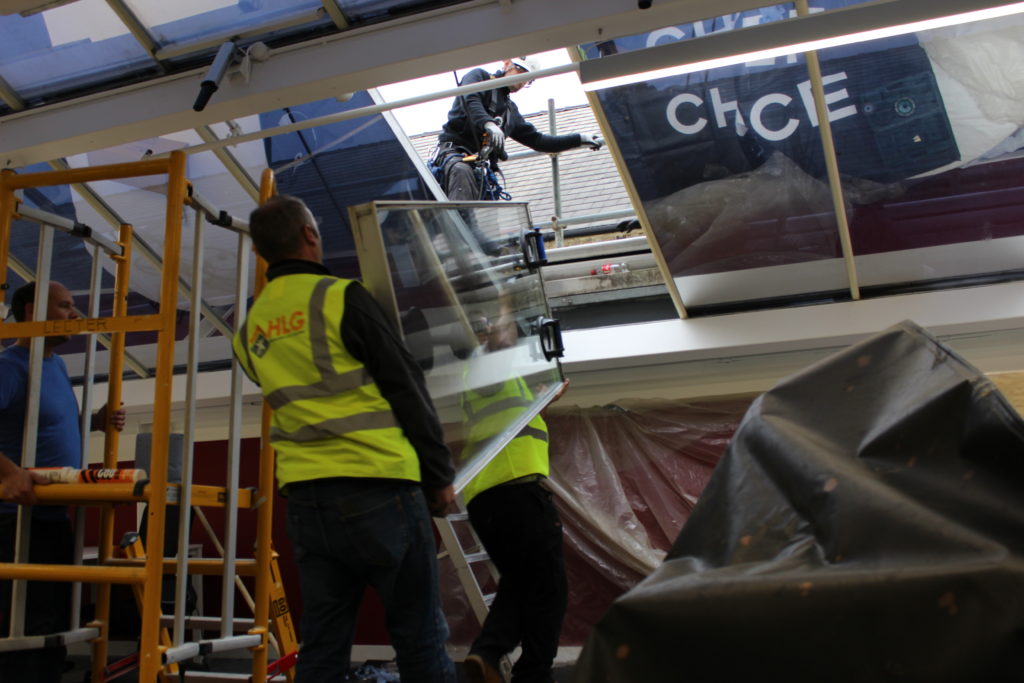 By upgrading the existing system we provided our client with a warranted new system, a cost effective solution to our clients initial headache.
Specialist Glazing Solutions once again proved our worth to our main contractor client. By carrying out an initial inspection all elements of required works could be detailed, priced, agreed and scheduled fully without the later headache and cost uplift cursory surveys can create.